Start I Software I
NTSC-JP


JAPAN
Dreamcast Spiele, die für den japanischen Markt bestimmt sind, erkennt man natürlich sehr leicht an den japanischen Schriftzeichen und an dem Dreamcast-Logo im Viertelkreis. Auf NTSC-JP Dreamcast Konsolen laufen nur die dafür vorgesehenen, länderspezifischen Versionen. Andere Versionen (PAL/SECAM/USA/BR/ASIA) können nur mittels eines Hardware-Moddings oder durch den Einsatz von inoffiziellen Boot-CD´s wie DC-X oder Utopia abgespielt werden.
Hüllen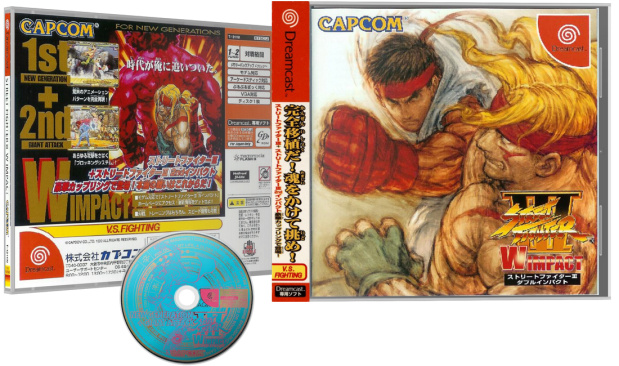 Die Standard-Version der japanischen Hüllen erschien in einem Plastik Jewel Sleeve Case inkl. der in Japan oftmals verwendeten Spine Cards

Spine Cards:
Schon seit den 50er Jahren verwenden die Japaner die sogenannten Obis (Obigami = Papiergürtel) für Bücher, um seperat von der Bucheinbindung weitere Details zum Produkt im Laden besser präsentieren zu können.
Schon bald danach verwendete man dort auch für LP´s, CD´s und DVD´s die im Rest der Welt Spine Cards genannten Papierkarten, die um den Rücken (Spine = Buchrücken/Rücken) des Produktes gelegt sind.
Mit dem Erscheinen der ersten CD-basierten Konsolen wie der PC-Engine oder des Mega-CD hielten die bei Sammlern gern gesehenen Spine Cards auch ihren Einzug bei Videospielen..
Je nach Anzahl der GD´s wurden auch Doppel-, Dreifach- oder Vierfach-Jewel-Cases verwendet.

---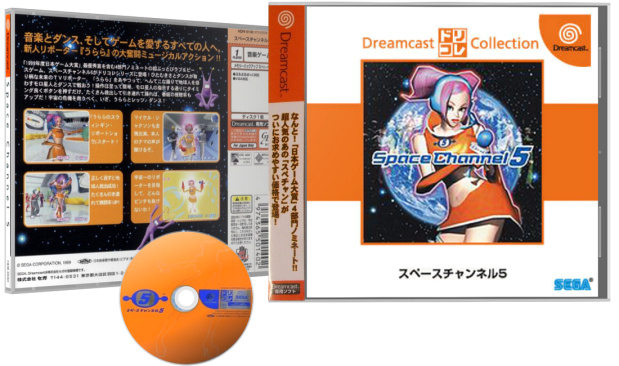 Von 56 Spielen erschien (wie auch schon beim Saturn mit Satakore) eine Dorikore-Version (Dorikore = Dorimukyasuto Korekushon = Dreamcast Collection), also eine vergünstigte Neuauflage.
6 Spiele erschienen mit eigenem Dorikore-Design inkl. neuem Cover und CD-Artwork:
Aero Dancing F, AirForce Delta, Cool Boarders Burrrn, The King of Fighters: Dream Match 1999, NFL 2K und Space Channel 5.
Die restlichen 50 Spiele erhielten dagegen nur noch einen Dorikore-Sticker auf die normale Hülle:
18 Wheeler: American Pro Trucker, 21: Two One, Black/Matrix Advanced, Capcom vs. SNK: Millennium Fight 2000 Pro, Capcom vs. SNK 2: Millionaire Fighting 2001, Castle Fantasia: Seima Taisen, Close to: Inori no Oka, Comic Party, Confidential Mission, Crazy Taxi 2, Culdcept Second, Cyber Troopers: Virtual On - Oratorio Tangram, D+Vine [Luv], De La Jet Set Radio, Dousoukai 2: Again & Refrain, Ever 17: The Out of Infinity Premium Edition, Fighting Vipers 2, Gaia Master: Kessen! Seikiou Densetsu, Grandia II, Guilty Gear X, Hanagumi Taisen Columns 2, Happy Lesson, Inoue Ryouko: Roommate, Interlude, Kidou Senkan Nadesico: Nadesico the Mission, The King of Fighters 2000, The King of Fighters 2001, The King of Fighters 2002, Lodoss Tou Senki: Jashin Kourin, Memories Off Complete, Memories Off 2nd, Mercurius Pretty: End of the Century, Miss Moonlight, Moero! Justice Gakuen, Napple Tale: Arsia in Daydream, Never 7: The End of Infinity, Pandora no Yume, Power Stone 2, Princess Maker Collection, Puyo Puyo Fever, Renai Chu! Happy Perfect, Roommate Asami: Okusama wa Joshikousei Takao, Roommate Novel: Satou Yuka, SEGAGaGa, Shenmue II, Tako no Marine, Tentama: 1st Sunny Side, Yoshia no Oka de Nekoronde, Yume no Tsubasa: Fate of Heart und Zero Gunner 2.

---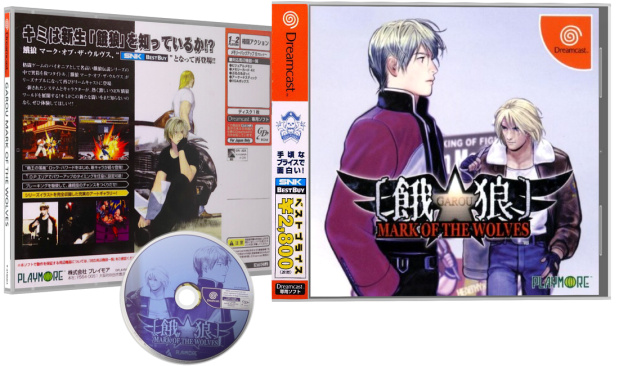 Von 3 Spielen brachte SNK die Best Buy Edition heraus, die neben einem neuen Cover, Spine Card und GD-Design auch an dem Playmore-Logo erkennbar sind, da zum Zeitpunkt der Veröffentlichung der Best Buy Versionen SNK bereits unter SNK Playmore firmierte.
Die SNK Best Buy Spiele:
Bakumatsu Roman Daini Maku: Gekka no Kenshi Final Edition, Garou: Mark of the Wolves und The King of Fighters 99: Evolution.

---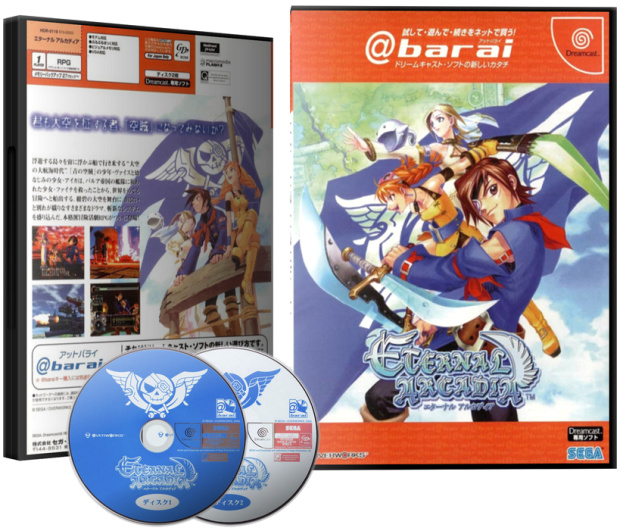 Einst geplant als große Demo-Innovation sollten in Japan etliche Spiele als @barai Demo Version erscheinen, die man anspielen und bei Gefallen online freischalten kann. D.h. auf den GD´s ist zwar das komplette Spiel gespeichert, aber den vollen Umfang erhält man nur mittels eines Freischaltcodes, den man über spezielle Server erhalten konnte, die selbstredend natürlich heute nicht mehr funktionieren. Die Demo-Versionen kosteten lediglich umgerechnet 10€ (1.000 Yen) und der Code zum Weiterspielen dann knappe 40€ (4.000 Yen). Allerdings wurden am Ende nur 2 Spiele als @barai-Version angeboten.
Die @barai Versionen:
Eternal Arcadia (im DVD-Pack und als Papersleeve aus dem Famitsu-Magazin) und Hundred Swords (im CD Jewel Case).

Exklusivität
Folgende Spiele gab es nur als japanische Version:
(und damit weder als PAL/SECAM/USA/BR-Version)

Anteil
Mit 542 Spielen erhielten die Japaner mit 80,21% aller 671 erhältlichen Dreamcast Software den absoluten Großteil, das letzte offizielle NTSC-JP Spiel und damit auch das letzte offizielle Dreamcast-Spiel war Karous am 8. März 2007.